Company leaders went to Nanjing to visit Ding Hua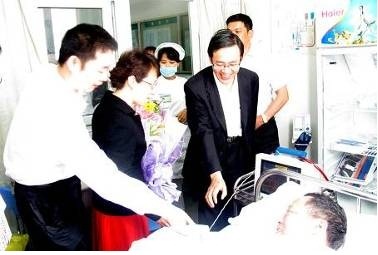 After learning the news that Ding Hua, vice president and chief engineer of Nantong Pang Yuan, had donated hematopoietic stem cells, the company leaders took time out of their busy schedules to rush to Nanjing Hospital from Shanghai at 10:00 on May 23 to visit and condolence to Ding Hua and his colleagues. its family members.
The leaders who visited were almost all senior executives. President and Chairman Mr. Chai Zhaoyi, Executive Vice President Ms. Su Yefei, Vice President Mr. Shang Liqiang, Vice President Mr. Ke Yihua, Chief Engineer Mr. Meng Zhifeng, Mr. Meng Zhifeng also On behalf of the company's trade union, he expressed condolences to Ding Hua. Bao Zhongping, executive director and general manager of Nantong Pangyuan, and Pu Quanting, general manager of Jiangsu Pangyuan were also present.
The company website and the company's party branch website also reported on the 24th.